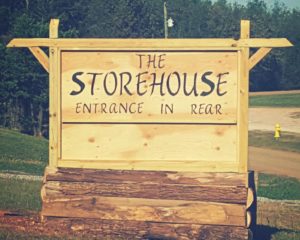 The Storehouse at Christian World Missions is the unique event venue that you've been looking for. Located in North Starkville, convenient to downtown, the MSU campus, and several new hotels, this rustic center could be the perfect place for your wedding, reception, family reunion, corporate event, or party.
Our facility offers great flexibility for all of your needs.  We can be as formal or informal as you desire.
The Big Room (1):  Built with versatility in mind, this 86' X 60' multi-purpose room can be dressed-up for receptions and worship, or down for birthday parties and reunions.  We can set-up a "dance floor," bring in the basketball goals, or arrange tables for dinners or games.
The Medium Rooms (2):  These rooms are created by moving the separation wall between two Small Rooms, so keep in mind that with use of both Medium Rooms, you reduce the number of Small Rooms to four.  Capacity:  80 seated at tables (lecture style), 130 seated theater style. (Available late 2017)
The Small Rooms (7):  These rooms are perfect for break-out sessions or smaller business meetings.  Capacity:  40 seated at tables, 66 seated theater style.   (We currently have 1 available; in late 2017, we will have 6-7.)
For more information or to make an appointment to view the site, please contact Lori Smith, Director of Operations, at (662) 324-0309 (office), (816) 809-0807 (cell), or  lori@christianworldmissions.org.